Email marketing remains effective. A recent report by Return Pathy Ascend2 have stated so. This study was developed by means of interviews to 88 marketing experts.
Email Marketing | Latest data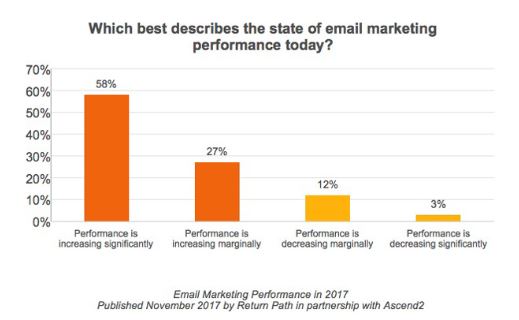 A 60% of the interviewed word for B2B companies. A 22% for its own one. A 18% provides their services to hybrid businesses. A 58% reported a remarkable increase in the performance of their email marketing campaigns. A 27% answered it improved "normally". Only a 15% said their email marketing actions performance was somewhat nonexistent.
On the other hand, around a 60% of the participants in the study thinks that email is the best tool to meet marketing objectives. A 31% argued this technique is above average in terms of performance and efficiency.
Let us talk about numbers
There are more than 3,5 billion email accounts. This is three times more than all Facebook and Twitter accounts together.
A 92% of Internet users have at least an email account.
A 72% checks mail six times a day or more.
A 76% of mails are checked up to 48 hours after sending.
More than a 70% buying decisions were influenced by email marketing.
Customers signing for email newsletter spend a 83% more than those who did not.
1$ investment generates 44,25$ return.
Top tips
Do not send too many newsletter per month. A high frequency is the main reason for unsuscribing for the 69% of interviewed.
Custom newsletters with the name of the receiver will increase probabilities of opening mail.
Do not attach heavy files as it is a risk that contents may not be seen.
Do not use capitals letters in line subject.